About Backstage Productions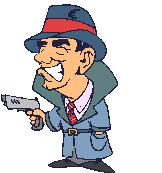 Backstage is an entertainment company originally formed by Don Disantis to promote his orchestra and vocal engagements throughout Northeast Ohio. Don and his orchestra appear all over Ohio at various lounges, resorts, weddings, and private parties. Backstage has now been expanded to include mystery shows, as well as other forms of entertainment. Whether your looking for live music, mystery shows, Renaissance shows, comedians, or any other type of entertainment, give us a call at 440-567-3532 and let us help you make your next event a special one.
This much fun can KILL you!
If you are looking for a break from the ordinary and usual forms of entertainment, let Backstage Productions present you and your guests with an interactive mystery show. It's sure to put a smile on the faces of those who attend. I don't know why, but people seem to enjoy seeing a crime occur right in front of their very eyes! Particularly when the poor victim later takes several bows at the conclusion of the show. And our actors, excuse me, victims never miss an opportunity to take a bow.
Your job, as detectives, is to gather information from the characters so you can figure out "who done it" and why. Who knows, if you are any good at this, there may be a job for you at the FBI.
Our Next Show(s):
When booked, information about our next show will appear in this space.
ave some fun with Santa and his Elf at the beautiful Red Maple Barn in Warren, Ohio with the side-splitting mystery dinner theater show, "Santa, You Sleigh Me!" Fun and games begin on Friday, December 17th at 6:00 PM. Presented by Moxie Events. Tickets can be purchased at ilovemoxieevents.com or by calling 330-759-4570. Go to our Calendar Page for a google map. The Red Maple Barn is located at 600 Center St. W, Warren, 44481.
---
—————————————————————————————————————————————-
And these characters are some of the CHARACTERS.
Da "Boys"

Tony "Tommy Gun" Testardo, Paulie "Punchie" Provologne, Sean, "The Irishman" O'Casey, Frankie "Big Money" Russo, Herman "The Vermin" Heinrich, and Sir Reginald Smyth Benton are just a few of the fascinating characters you may encounter at one of our mysteries.

Da "Girls"

You'll just love Tina "Pinky" Martelli, and her cousin, Andrea "Little Pinky" Martelli. Not to be out done, you may come across a "Toots," a "Babe," or a "Doll." Don't think of them as being very domestic, though. The only laundry they do is with $$$. And don't let them fool you. As soon as you think you've found your "Little Mary Sunshine," she will likely rain on your parade.

These, and many more…

colorful characters await you for your next party or corporate event. A variety of mystery "Themes" is available for you to choose from, with many features tailored to your specific organization or group. Please give us a call to discuss pricing details, Mystery Packages, and Themes. I'm sure we can find a way to "Make you an offer you can't refuse!


"Past "Crime" Scenes

Ohio Theater, Cleveland (corporate show).The Country Club of Hudson (corporate show). Our actors have also performed in Murder Mystery productions at Punderson Manor, Mohican State Park, and other state parks around Ohio.